The just published April 2017 edition of the ERCIM Newsletter (issue 109) devotes special attention to the VRE4EIC H2020 European project around Virtual Research Environments which euroCRIS is a partner. in.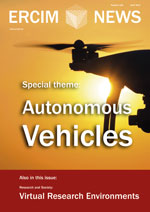 The
section devoted to the project
has been coordinated by former euroCRIS President and VRE4EIC scientific coordinator Keith G. Jeffery and it contains contributions on the different project work packages.
The VRE4EIC project aims to provide a model for Virtual Research Environments, which includes requirements, reference architecture and implementation on two use cases to demonstrate its feasibility and innovative impact. VRE4EIC has chosen the CERIF data model to denote the superset catalog, i.e. the canonical superset metadata standard to and from which every other metadata standard used by any VRE is to be converted.
from the euroCRIS community on VRE4EIC use-cases.