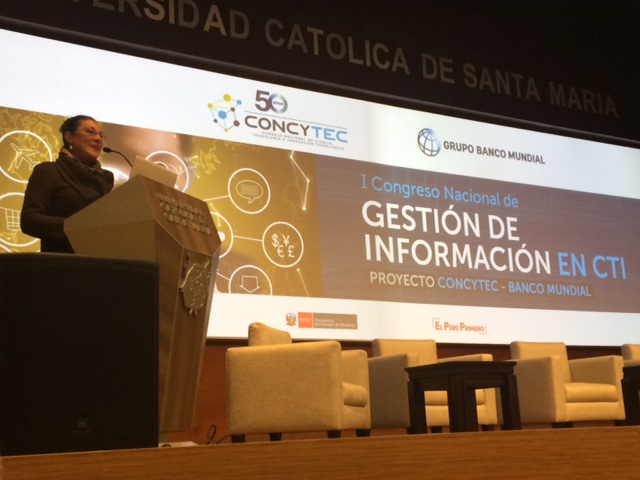 The national-level event was very well attended – over 400 attendees at the venue plus a significant number of additional online followers – since one of the key goals for CONCYTEC to hold this event outside the capital Lima was to offer universities all across the country the opportunity to engage in the discussions. A
pre-conference DSpace workshop
was also held on Jul 18th, which again saw large numbers of attendees both on site and remotely (in the words of the Duraspace representative at the event, it was the largest DSpace workshop ever held).                                                                                                                                                                                          The vision presented at this top-level event about the valorisation of research and innovation as economic drivers in the country was witnessed by dozens of Rectors and Vice-Chancellors for Research from many institutions. Furthermore, CONCYTEC invited a good number of foreign speakers to deliver guest talks in order to provide the international context for their initiative. This international contingent was composed – among others – of Kathleen Shearer (
COAR
), Patricia Muñoz-Palma (
LA Referencia
), Michele Mennielli (
Duraspace
), Pablo de Castro (
euroCRIS
), Ana Heredia (
ORCID
), Susanna Mornati (
4Science
), Joan Caparrós (
CSUC
) and Federico Ferrario (
CINECA
).                                                                                                                                                                                                          Most of these international organisations represented at the event are non-profits, and the conference provided the chance for all of them to team up to provide support to the Peruvian project from different perspectives. This initiative to build a national-level infrastructure for research information management is a very ambitious one: this is not just about implementing a system to support the activity, but also about reinforcing the
currently existing repository network
in the country so that the new infrastructure layer can be built on top of it. Also, the project involves updating the role of research support librarians in Peru so that they're able to retrain themselves in order to provide the required support to the emergence of this new area of activity in the country. Finally, and maybe most ambitiously, the project aims to achieve the required degree of consensus across the multiple stakeholders who will need to take part in the initiative (institutions and their leaders, researchers, librarians, Peruvian research funders, the different ministerial units...) as to be able to progress together to jointly implement this whole new domain of research information management.                                                                                                                                                                                                          From an organisational perspective, the teaming up of all these non-profit international organisations for the purpose of supporting a new initiative was one of the highlights of the event: it was a practical demonstration for the joint work by a loose coalition keen to provide a set of different, if complementary insights on the status of the already available infrastructure and on the developments in the domain presently taking place in other countries and regions. Also, by having invited all these international 'partners' to get to know better what their strategy looks like, the national agency has implicitly accepted the commitment to keep working with all these stakeholders in the process for delivering its goals.                                                                                                                                                                                                  A second edition of this conference was in fact announced at the closing of this first, very successful one: continuing with the trend that this first conference has established to hold these comprehensive events outside the capital, the next edition of this National Conference in Research Information Management will be held in Northern Peru in two years' time. From a euroCRIS perspective, we can only welcome this ambitious initiative and wish our Peruvian colleagues the best possible outcome in its realisation, together with all our support where/if necessary. We look forward to the publication of the report with the findings of the qualitative analysis of the status of Peruvian institutions in the area of RIM that CONCYTEC will publish soon, and to regular updates on the progress of the work at future euroCRIS events.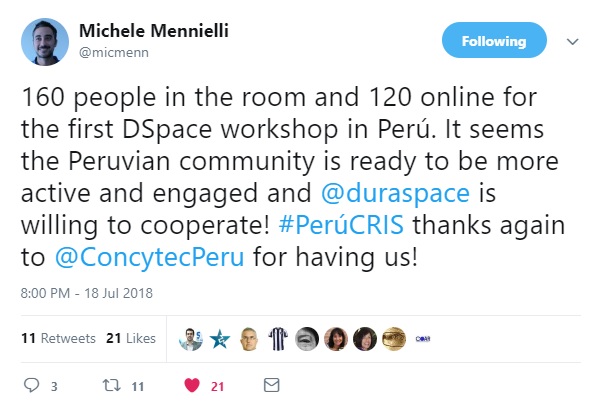 Most presentations delivered at the conference (some in English and some in Spanish language) are already available online
at the CONCYTEC repository
.