Following her appointment as the University of Sheffield Interim Library Director and University Librarian, Anna Clements stepped down from the euroCRIS Board as of August 30th. The sheer volume and complexity of her tasks at her institution in these difficult times made it impossible for her to commit to keep providing the valuable input to the euroCRIS team that she has delivered for many years. euroCRIS's loss is Uni Sheffield's win.
Anna's stepping down means a big loss for euroCRIS. Not only was she the euroCRIS Board member who collected the highest number of votes at the Nov 2016 elections – meaning she was to a great extent the public face of euroCRIS's – but her long-term contribution to euroCRIS projects and discussions will be impossible to replace.
Furthermore, Anna – who has been a euroCRIS member since 2006 and a Board member since 2013 – featured a professional profile that bridged the gap across the two main euroCRIS missions, namely to advance technical system interoperability through the use of the CERIF standard and to promote and cater for an international, solution-agnostic research information management systems community.
This community management objective was not there yet when back in 2002. euroCRIS was created as a purely technical think tank to deal with research information collection, storage and exchange. However, once the technical standardisation work produced by this think tank resulted in the foundation of organisations like Atira A/S and Avedas AG, it was easy to foresee the gradual emergence of a user community for their products that euroCRIS as an organisation could also provide a useful service to on the basis of a modest annual membership fee.
This model gradually consolidated with the joining as institutional members of many universities and other research-related bodies. The membership growth was particularly intense in the UK — thanks largely to the work of professionals like Anna Clements, Simon Kerridge, Brigitte Jörg and Rosemary Russell among many others.
The expansion in the use of CERIF as a national-level system interoperability standard in the UK followed the working patterns applied by the JISC – by then still the Joint Information Systems Committee – and the community management side of the euroCRIS involvement saw a significant boost. Anna's role in particular was a key one (she used to be known as "Ms CERIF" in those days) within the Jisc programme on Research Information Management led by Josh Brown and Verena Weigert. Those were the halcyon days of JISC-funded projects like St Andrews-led CERIF in Action (CIA), Sunderland-led IRIOS and IRIOS-2 or Project Snowball to mention but a few.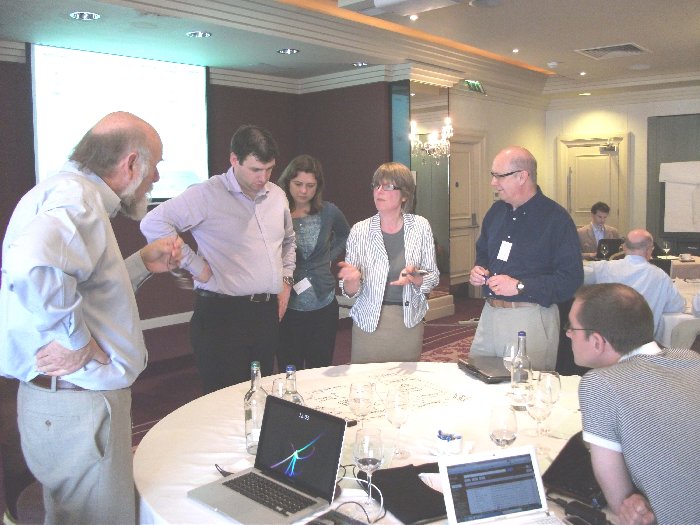 JISC RIM & CERIF Workshop, Bristol, June 2012
These days the increasing complexity of the RIM solutions and approaches has occasionally led to internal reflections on whether euroCRIS should at this point leave the community management side in the hands of the various CRIS providers and retreat into its original technical think tank position. Initiatives like the recent launch of the Technical Committee for Interoperability and Standards (TCIS) might in fact seem to point in this direction.
 Anna's stepping down from the Board is bound to create a certain imbalance in this regard, given that she provided a unique blending of the technical expertise on the CERIF standard and a passion for the community management strand.
 Besides the need to integrate these two parallel euroCRIS missions, the euroCRIS Board shows a mixed profile which could be categorised — in a simplified way — as a mix of IT technical experts ("techies") and scholarly communications experts ("librarians"). Some Board members – such as Anna – have a combination of both profiles, and this makes them irreplaceable. A mixed professional profile it is an important asset for community management purposes at a time when CRIS systems are first and foremost being used for the implementation of Open Science.
 From a strict euroCRIS perspective, we are already looking into the options that the forthcoming Nov'2020 elections may offer to reinforce the Board with new members who bring in a renewed flavour of this mixed professional profile – more information about the electoral process will be shared soon. And from a personal perspective, a big thanks to Anna for her invaluable contribution to euroCRIS during all these years, best wishes for the new endeavour and we very much look forward to welcoming you again at some future euroCRIS event where we can properly celebrate all we have achieved together.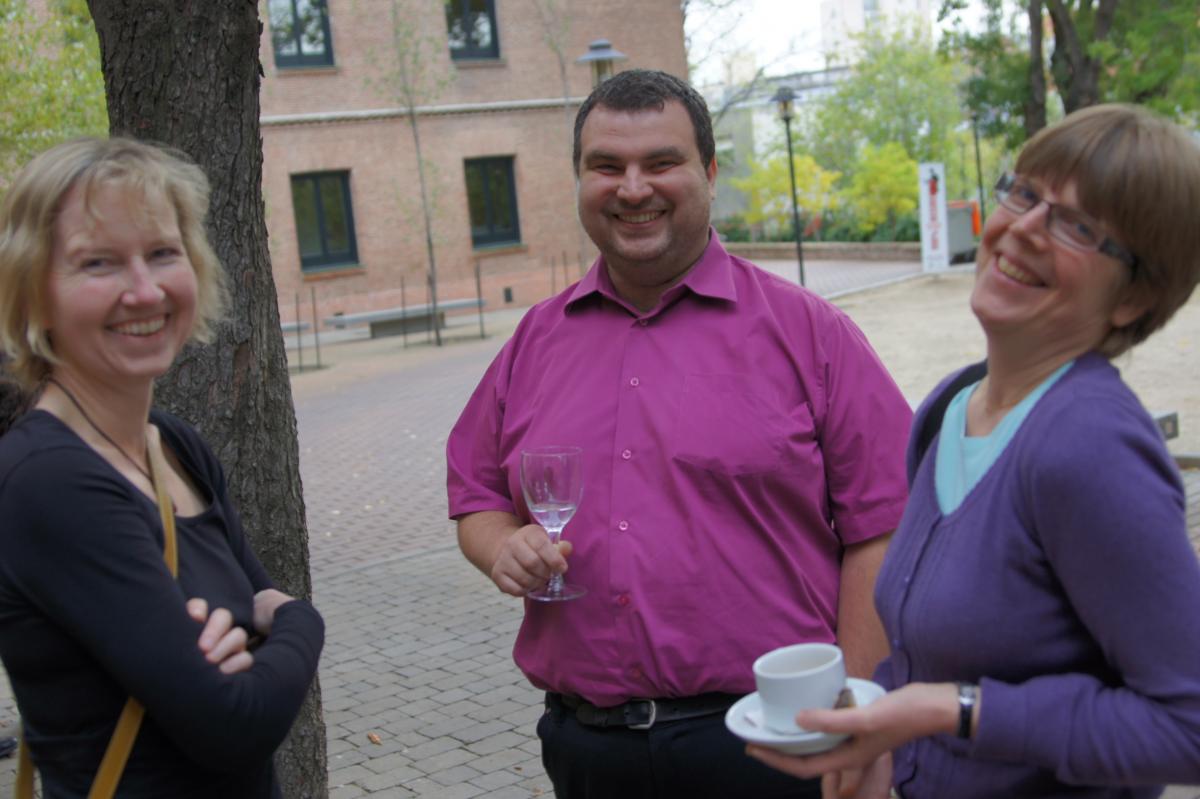 With fellow euroCRIS Board member Jan Dvorak and UKOLN/Uni Bath Rosemary Russell
at the euroCRIS Autumn membership meeting in Madrid, Nov 2013